Get Balsamic Vinaigrette in supplies part in market or ask for it, completing New Year's goals, and collect from the new balsamic stand in chefville new year new sauce goals !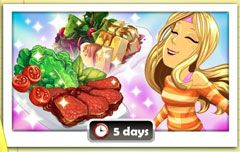 build Balsamic Crates in these quest with Bello !
walkthrough guide :
quest 1: Stand for Balsamic Goal
– Place Balsamic Stand
– Finish Building your Balsamic Stand
– Tend your Balsamic Stand 1 Time
If you placed your Balsamic Stand before starting the "Stand Up for Balsamic!" goals, you can get another Balsamic Stand from the Marketplace to complete the goal !

quest 2: The Grapes of Health Goal
– Ask friends for Bunches of Grapes
– Give Chef's Service with Garden Salad 12 times
– Cook 2 Spicy Beef Salads on the Healthy Eating Station
quest 3: Balsamic Varieties Goal
– Cook with Balsamic 6 times
– Cook 9 times with Romaine Lettuce
– Serve 8 Veggie Kebabs from the Grill
Incoming search terms for the article: