Co-Op Farming Job Rewards FarmVille ! have you done with your co op farming jobs in farmville ? if not then you should finish the jobs and get the gold medal.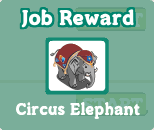 why gold medal ? because there are special reward if you completing tasks at gold level
yes, all the participants will get coins, xp plus a special reward !
if you wonder how to get circus elephant or grape sheep in farmville ? or some buildings and decorations that you never see on the market then you will find your answer in here
What reward do you get from completing co-op farming job on farmville for gold medal?
a pack of pickled patty pans job reward : mail truck + 619 coins + 708 XP
a very berry field trip job reward : school bus plow + 866 coins + 983 XP
fashion bug job reward : grape sheep + 846 coins + 958 XP
frantic for flowers job reward : wedding gazebo + 904 coins + 1035 XP
pumpkin pie o'plenty job reward : cafe statue + 462 coins + 527 XP
rice paper job reward : lantern tree + 450 coins + 515 XP
stirring things up job reward : mini pagoda + 866 coins + 983 XP
tossin tomatoes : circus elephant + 449 coins + 509 XP
town greening job reward : fv monument + 516 coins + 589 XP
Incoming search terms for the article:
farmville co-op rewards
co-op farming rewards
farmville co-op farming rewards
farmville coop rewards
farmville co op rewards
farmville job rewards
farmville mail truck
co op farming rewards
job rewards farmville
farmville coop farming rewards