Country Story Free Yellow Ostrich 🙂 For a limited time, collect 50 stars to get your very own rare yellow ostrich !

ask your friends for help, offer them a reward for helping you out, then return the favor!
how to get the stars for yellow ostrich on country story ?



look at the free gifts 🙂 you will find a limited star there, send it to your friends and asked them to send 1 for you too.
or you can click the ostrich icon on the left side, and click 'ask from friend' then it will post it on your wall

and if your friend click 'help' then they will see this :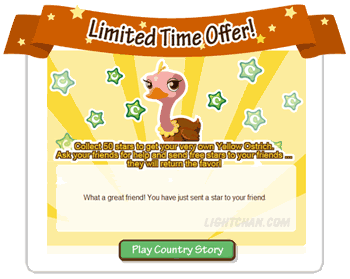 get this free yellow ostrich on country story now 😀
Incoming search terms for the article:
country story ostrich
country story yellow ostrich
Yellow Ostrich country story
limited time offer