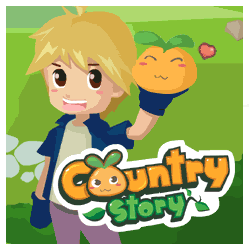 These are some Country Story Frequently Ask Question, you can read all detail information in the previous Country Story Tips and Tricks, Country Story Tips, and Country Story Quests Guide


Country Story Dog
What is the dog quest?
The Dog Quest gives you a guard dog, that helps you guard your crops sometimes. It doesnt work all the time just sometimes, its quite cute and can also help you get a spiffy new trophy.
When can i get the dog quest?
This dog quest will be available for you at level 8, Man's best friend. It is however advised that you start getting your friends up to 100 points before you get the quest.
How is the dog quest done?
The Dog quest can be done by simply attaining 15 friends with 100 friend points. That means that you need to get 15 friends with this.


Missing Dog ?
Q : I have a problem with the dog quest, i complete the quest with the 15 friends with 100% points of friendship and all, the quest book shine, i got the reward and everything but i can't find the dog anywhere , it's not in storage nor in my farm.
A : I think this case happen a lot… maybe this is one of country story bug, well… try to save & quit and then refresh. It should show up 🙂
Country Story Friend Points
What do Friend Points do?
Well i have shown you earlier how to access the friend points and how they are used in a quest. Mainly friend points are used to protect your crops.
You see that button that says get help? If you click it it will bring you here.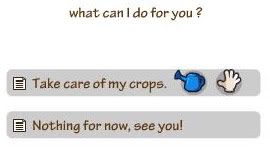 Now choose take care of my crops. What happens next is your friend will water your crop for you. He/She will also go on to harvest it for you. They will also protect your crops from being stolen.
Some of you may notice the "this belongs to a friend" message when you try to steal. This means that its being protected by a friend. The harvest will go into your storage and you will be left with the weeds at the end for you to plow and replant crops.
Note that every time your friend finishes harvesting and you plant a new crop. You have to re-assign a new friend to protect it. If it is a 2 or 3 season crop your friend will harvest all 2 or 3 seasons for you before it dies of and you need to plant a new one. You will then have to reassign them to the plot again.
If I use my friend points wont they go down?
Not to fear. You can raise your friend points by sending stuff to your friends. From what i know it is 100 coins for 1 FP. But please bear in mind that it can only be increased by 10 points a day.
This is some list of things that equal 10 friendship points :
Materials
100 sticks
100 stones
Crops
1000 chicken wheat
500 white radish
250 carrots
200 green peppers
150 corn
167 purple radish
167 yellow peppers
167 red peppers
Food
5 Milk
5 Bread
4 Cake (white dish)
4 Pie
2 Turkeys
2 Fish
The following is a list of the bare minimum increments required for 10 FP. It was researched by andwan0
491 white radish – 10 FP
490 white radish – 9 FP
246 carrots – 10 FP
245 carrots – 9 FP
192 green peppers – 10 FP
191 green peppers – 9 FP
141 corn – 10 FP
140 corn – 9 FP
184 yellow peppers – 10 FP
183 yellow peppers – 9 FP
Purple orchid – 10 FP
Pink orchid – 9 FP
How to finish Watering? Can! quest ?
I have watered my friends crop but they just wont count to my quest!
Why do i need to water them anyway?
Ok first of all u have to make sure your friends crops need the watering.
here is a simple guide as to what will be counted to watering or not.
Don't Water


Water

Why do you need to water your crops?
As you can see there in the picture above your crops wither without water. This means that the time on them growing will stop and will only resume after u water them. So your plant will stay a shoot/seed forever untill u continue watering them for the countdown to continue, they will not die.
Country Story Lifestock
Can livestock be sent?
No livestock cannot be gifted so dont buy it for your friends or try to trade it in the forums after buying it.
How do u feed my chicken/cow/sheep?
First you click on your animal and then see that button on the left? yes click on it to feed your livestock.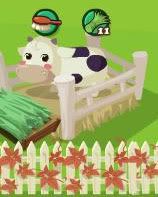 How do you collect eggs in Country Story ?
Youn can use your basket that you use to collect crops with to collect eggs
How you move the chicken after you place it down ?
Click on "Decoration" and drag your chicken to the place you want.
If a Red Squares appear, it means you can't place it there.
If a Green Squares appear, it means that the place is available for your chicken.
How do you move a grown chicken ?
You will need to press 'storage' if you want to move the chicken around.
Will my animal die?
No if you do not feed them they do not die. They merely stop growing or producing food whichever stage your livestock is at.
My animal takes 72 hours to lay an egg/produce milk/wool! It is not worth it.
Well that is actually the time it takes to grow up. After that 72 hours are reached it will take much less time to produce an egg/wool/milk. Meaning multiple times a day
You can buy wheat and grass seeds from the shop on the first page.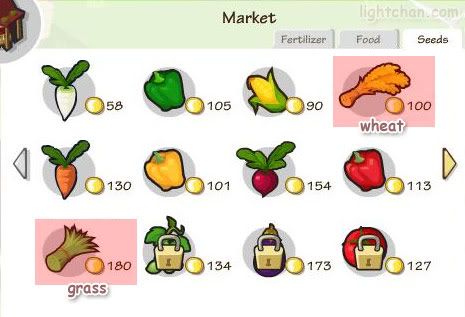 Grass will be unlocked at level 20
After calculating it seems that chickens eat 10 food every 3 hours and 10 mins (=
Also Warning: If you have fed your livestock and you put it back into your inventory all food that has been fed will be lost and u will have to feed them again.
How to fast level up on Country Story ?
You can't really level up super fast on country story. Just do all the quests, and invite more friends to play, so you get more things, and use the maneuver right when you plant something so you can quickly get the plant and plow and put in a new seed. But basically, steal things from your friends so you can do the quests and gain money, invite friends, and grow a lot of plants.
Incoming search terms for the article:
country story yellow chicken
country story help
how to get a yellow chicken in country story
we are currently unable to establish a connection to country story
yellow chicken country story
country story how to get yellow chicken