Country Story Puppy Dog Dolls Statues Quest Puppy Give-Away ! a new cute doll on country story, puppy dolls 🙂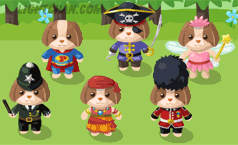 if you remember the country story full time farmer quest 10 lamb dolls is about crops now the dog dolls is about fruit trees !
Collect Puppies ! Have you heard the news ? complete the new collection quests by growing the new trees to receive the new collectible puppy statues !
you can see there are superman puppy, pirate puppy, fairy puppy, police puppy and others
for the first puppy doll quest you can get it from the new coin trees on country story 🙂
you can plant the new 3 seasons tree :
plum tree
peach tree
lychee tree
pomegranate tree

after you complet the dog doll quest you can find the puppy in the redecorate tab, icon next to shop and storage, it think it's called 'redecorate'.
how many and what fruits do you need to harvest from trees on country story for puppy dolls statues quest ?
here are the puppy give-away quests :
Help me collect these fruits, and i will help you complete a special collection!
1st puppy doll quest : puppy give-away (i)
harvest 3 plum tree
harvest 3 lychee tree
harvest 3 pomegranate tree
2nd puppy doll quest : puppy give-away (ii)
harvest 15 peach tree
harvest 15 pomegranate tree
harvest 15 apple tree
3rd puppy doll quest : puppy give-away (iii)
harvest 40 lychee tree
harvest 40 apple tree
harvest 40 orange tree
4th puppy doll quest : puppy give-away (iv)
harvest 85 orange tree
harvest 85 pear tree
harvest 85 pomegranate tree
5th puppy doll quest – pirate puppy : puppy give-away (v)
harvest 155 apple tree
harvest 155 pear tree
harvest 155 lemon tree
6th puppy doll quest – super puppy : puppy give-away (vi)
harvest 250 orange tree
harvest 250 lemon tree
harvest 250 cherry tree
i hope this will help you get the puppy dolls faster on country story 😀
Incoming search terms for the article:
country story puppy give away
country story puppy quest
puppy give away country story
country story pup collect
pup collect country story
country story puppy
Country story puppy give-away
Country Story Tree quests
puppy give-away country story
Country Story Tree Quest