Country Story Bunny Rabbit 🙂 there's a new animal on country story, white bunny rabbit !
How do you get white rabbit – bunny on country story ?
to get country story white rabbit share your e-mail with country story !
Share your email and get this cute and exclusice white rabbit. The rabbit will be in your storage the next time you login.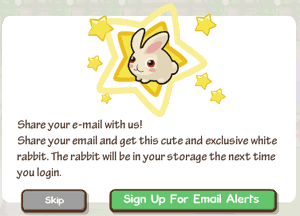 This is a gift for CS players who have given their email address to PF. So, you'll need to allow PF to have access to your email address, from the grey box above your game window.
look in the storage – animal tab and drag the white bunny to the farm


and you will see a pop up "Nice job! Now just wait and see that cute animal grow up!"
also you get rewards : exp 350 coins 450
look ! a cute bunny on your farm, hop hop~

give some grass and brush it ! look how cute the rabbit is 😀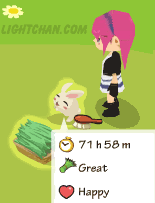 Lost rabbit – bunny 🙁
when i log into CS, there is a message that said i got my rabbit, but then it wasn't in the storage
no rabbit in my storage ! i don't get the white rabbit !! There's only my stock of wheat and grass under the "Animals" tab >.< you should re-allowing the email notification 😀 it will solve the problem
Here's the steps to allow notification on facebook for country story, thx to snowmoon :
go to 'Account' (top right corner of your FB homepage)
–> 'Account Settings'
–> Notifications
–> scroll down to the bottom
–> check the box beside 'country story'

if you still don't see any rabbit, log out and back login and you will see the country story white rabbit on your storage !
Incoming search terms for the article:
country story rabbit
country story bunny
white bunny rabbit light
country story white bunny
country story rabbit collection
country story share email
white bunny country story
country story peacock