Crafting Cottages FarmVille ! crafting cottages are coming soon on farmville! and when they do, crop mastery is going to matter more then ever !
did you remember this notification ?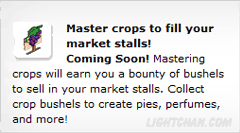 Master crops to fill your market stalls !
Coming Soon ! Mastering crops will earn you a bounty of bushels to sell in your market stalls. Collect crop bushels to create pies, perfumes, and more !
well some of the farmville players already see this on their market, buildings :


Perfumery – makes perfume
Winery – makes wine
Bakery – makes pastries
Fuel Workshop – makes fuel
all of them have the same price, though i think this just a temporary ?
buy : 1.000.000 coins
sell for : 50.000 coins
XP gained : 10.000 coins
well i'm sure this crafting cottages features will have something to do with our crop mastery / mastery sign 🙂
Incoming search terms for the article:
crafting cottages farmville
farmville crafting cottages
farmville crafting cottage
crafting cottage farmville
farmville crafting
farmville winery
farmville crafting cottages mastery
crafting in farmville
crafting cottages in farmville
crafting cottages