FarmVille Dog Treat ! look a cute bone food for your adult dog 🙂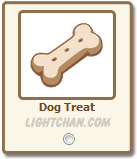 Dog Treat on farmville
what is dog treat in farmville ? how to use dog treat ?
Teach your adult dog tricks by rewarding it daily with treats ! one treat helps your dog remember its new trick for a day.
you can see how many dog treat requirements for each tricks.
how to get dog treats in farmville ?
If you run out of treats, buy some on farmville market with 5 farm cash for 7 dog treats.
or you can also find 1 dog treat on free gift tab 🙂 asked your friends to send one for you.
Incoming search terms for the article:
dog treat farmville
farmville dog treat
FarmVille dog treats
farmville dog tricks
dog treat in farmville
how to use dog treat in farmville
farmville treat
dog treat on farmville
farmville dogtreat