Category:
game
,
puzzle
| 24,073 views
The update is here ! Let's discuss the right answer for stage 25 in endless escape level 25 walkthrough


there are 9 square on the right side and symbol on left side
change the color of each square with the symbol on the left :
i'm still looking for the solution
sun – yellow
cloud – white
tree – green
heart – red
coins – yellow
chestnut – brown
road – black
snow – blue
fire – red
but the door won't open, i think the problem is on the coins and chestnut ?
still stuck so far, any help ?
we have the right answer here thx to Panodyne :
Top: Yellow/Blue/Green
Center: Red/Dark Yellow/Brown
Bottom: Black/White/Orange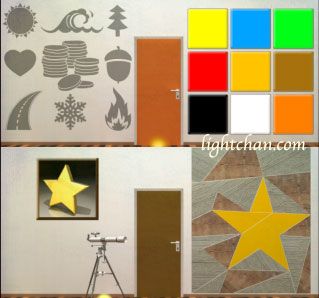 for level 26 just like the picture, you need to make a star from the shape
click 5 shape on the middle to make a yellow star
get the key under telescope
Incoming search terms for the article: