FarmVille New Alien Decorations : Crashed UFO, Crop Circles and Green Cow (BOV1NE-9) Alien 😀
Here's what zynga team said about thie new alien decoration in farmville :
"We all know that milk does a body good, right? Now, can you imagine the effects of Milktonium?
The FarmVille market has been invaded by some items that are truly out of this world, including a crashed UFO, crop circles, and a visitor named BOV1NE-9.
Along with these galactic guests there are a few new giftable items you may want to check out. "
So remember, these items are limited 🙂 so if you want to buy them just remember the time left for each items 😀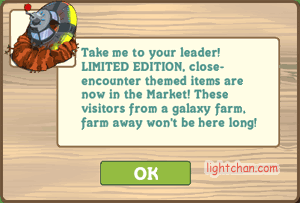 Okay now let's go to the market an see those alien decoration items :
a Crashed UFO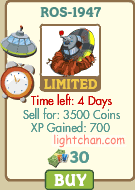 ROS-1947, Farm Cash only 🙁
FarmVille Crop Circles :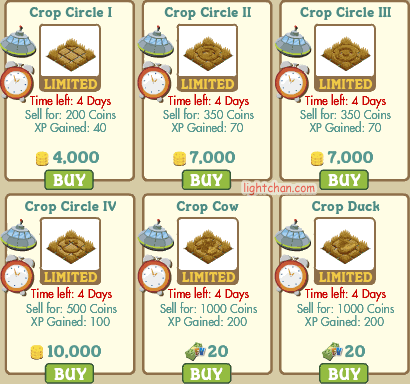 There are 4 Crop Circles for coins : Crop Circle I,II,III and IV
and 2 crop circles for farm cash : Crop Cow and Crop Duck
Crop circles take up a 3×3 spot. Way too big !! i wonder when the new FarmVille Expansion will released ?
And looks like there's already some farmville players that bought all farmville circle crops coins 😛
So cool !!! but still.. too many spaces for crops gone T__T
And also there're a new free gift in farmville for your neighbors 🙂


Red Gazing Ball and Bird Bath
Incoming search terms for the article:
farmville ufo
farmville ufo items
farmville crashed UFO
ufo decorations
ufo farmville
farmville alien
farmville crop circles
alien decorations
crashed ufo farmville
farmville