FarmVille Baby Calf – How To Get Colored Calfs ? as i told you in farmville bull, there are baby calfs on farmville 🙂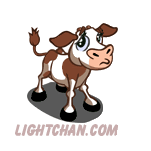 So how to get colored baby calf ?
First you will need to find bull on farmville facebook news feed and dairy farm 🙂
place the bull on dairy farm with other cows (white cow, brown cow, pink cow or green cow) and then you have a chance of receiving a baby calf when collecting milk from your dairy farm 😀
It will post on the facebook news feed and you can share it for your friends to adopt the baby calf.


There are 4 colored baby calf that you can have / adopted :
White baby calf
Brown baby calf
Pink baby calf
Green baby calf


What do you harvest from baby calf ?
you can brush calf for 80 coins in 1 day from baby calf.
Remember that the color of the Baby Calf you receive is also determined by the color of the cows contained in your Dairy Farm when you collect milk.
For example, if you have 15 Pink Cows, you have a higher chance of receiving a Pink Baby Calf when collecting Milk 😛
Incoming search terms for the article:
farmville calf
how to get a calf on farmville
how to get calves on farmville
farmville calves
how to get calf in farmville
farmville bull
how to get calves in farmville
how to get a calf in farmville
calf farmville
farmville calfs