FarmVille Basil Mastery 🙂 new high level seed on farmville, basil !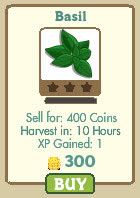 basil on farmville market
you can unlocked basil on level 48, the basil seed cost 300 coins to plant and you can harvest basil crops every 10 hours for 400 coins.
You will get 1 XP per plot and don't worry this seed is permanent !
farmville basil mastery level :
level 1 : 1200 crops
level 2 : 2400 crops
level 3 : 3600 crops
total harvest for basil mastery sign : 7200 basil crops
Incoming search terms for the article:
farmville basil
farmville basil mastery
basil mastery
basil farmville
basil mastery farmville
basil in farmville
farmville mastery basil
basil farmville mastery
mastery basil
basil