FarmVille Biplane Instant Grow 🙂 Grow your crops instantly with a little help from above ! The farmville biplane has arrived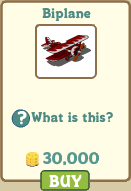 biplane on farmville vehicles market
Fly this plane to grow all your crops instantly by applying an eco-friendly mix ! Flying the plane costs Farm Cash, but your first flight is free !
The Biplane can be purchased from the "Vehicles" Tab in the Market for 30,000 coins and is unlocked at level 12.

farmville biplane
but if you want free bitplane on farmville, then you can do the new co-op peanut butter jelly ! because the peanut jelly gold reward is a bitplane 😀

what is farmville instant grow with biplane ?
Applying Instant Grow with the Biplane costs Farm Cash. The amount of Farm Cash you pay is dependent on how much time is left until your crops mature and how many seeded plots are on your farm.
After you first purchase your Biplane, you are entitled to one free application of Instant Grow. To use it, simply click on the Biplane and select "Apply Instant Grow".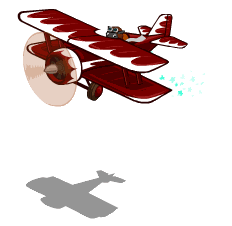 you will see the biplane animation flying around your farm and dropping some instant grow to your crops.
Incoming search terms for the article:
farmville instant grow
farmville plane
instant grow farmville
Biplane farmville
farmville biplane
apply instant grow
instant grow
farmville instant grow cost
mega grow farmville
biplane in farmville