FarmVille Cash 🙂 Sometimes a farm just needs some help. We've all been there, and we've seen many many government programs attempt to solve this issue.
How do I get Farm Cash ?
Luckily financial aid in Farmville doesn't require an army of state senators. A valid Credit Card or Paypal account will be able to provide you will all the farm cash or coin you need to get you out of your hard times.
How do you get more Farmville cash?
If you aren't so lucky as to have a benefactor of this nature, you can also earn cash by completing offers. To complete offers and surveys simply click on the "Add Farm Coins & Cash" tab and select an offer or survey.
You will also earn Farm Cash as you level up. 1 FV per level is awarded.
When will I receive the Farm Cash from the survey that I did?
Some surveys are instant while others may take a few days. You can check the status of your surveys on the "Add More Farm Coins & Cash" tab by clicking the green button that says
"Missing Farm Cash?"
Note: Do the netflix free trial one, then cancel as soon as you get the email confirmation and 125 fv CASH!
Update: looks like they remove the farmville offers for fv cash because too many scams happened lately.
What is the best profitable way to spend FV Cash?
– below 32 then consider sweet potatoes
– above or at 32 get acai tree looks good and gives coins
but if you were to plant sweet potatoes you can only plant it for 7 days
crops like grapes have more profit but just less exp
acai is better unless you want 3 exp when you plant
if you are level 32 or above get acai because you can plant peas
New Update : Special Offer !
looks like now there will be randomly selected farmer for discount on FV Cash and/or coin purchase.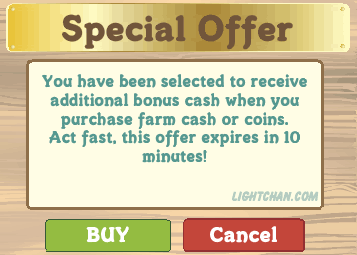 And there will be limited time discount : 10 minutes 😛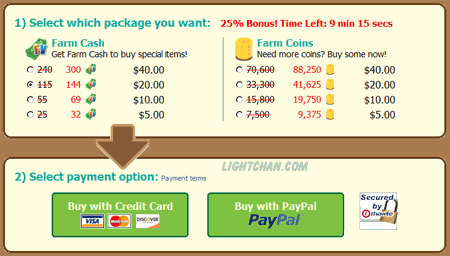 Incoming search terms for the article:
farmville cash cow
farmville cash surveys
surveys for farmville cash
farmville surveys
free farmville cash surveys
Cash Cow farmville
free fv cash
farmville cash
farmville cash survey
farmville cash discount