Farmville Christmas Tree Lost Delete Disappeared. Did your holiday tree disappeared ? Either you a I accidentally sold your christmas tree (directly from the gift box) or you had a xmas tree but when farmville enhanced, my tree disappeared ?
Now you wonder how i can get christmas tree back ?

Well after searching and asking, i found the solution on zynga forum on farmville discussion thread 🙂 credits to xtremeddx.
Here is the reply I got from Customer Support after filling out a ticket about how I placed my tree on my farm and after the "Farmville has been enhanced" message I returned to my farm to not have a tree.
I did the steps, did not get my tree and promptly filled out a new ticket. I'm not confident that the Holiday Trees will be replaced due to bug-related issues.
———————————————————————–
Thank you for contacting Zynga Customer Support.
The "FarmVille has been enhanced" message that you are experiencing is a pesky little bug affecting many of our users that we are working hard to fix.
If we weren't big into organic produce we'd probably just douse your farm in pesticides, but for safety's sake we've decided to track this bug down on our own.
Thanks for bearing with us while we sort this out, we hope to have this resolved for you shortly.
However as a workaround please follow the link and check whether you get the lost item.
Answer Title : Loading/Connection Troubleshooting 101
Answer Link : http://zynga.custhelp.com/app/answers/detail/a_id/600
———————————————————————–
So if your tree is disappeard please filled out a new ticket for zynga and tell them about this problem 🙂 You will get your tree back. See it here Zynga Support Ticket.
or you can post your UID on farmville forum, because there're a lot of players that lost their tree too
http://forums.zynga.com/showthread.php?t=294936&highlight=christmas+tree
Updated : now you can purchase holiday tree for 10 coins on the market 🙂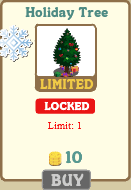 however there's only 1 limit for the christmas tree, so if you already have 1 you can't purchased it again 😛
Incoming search terms for the article:
farmville christmas 2010
farmville christmas tree
farmville christmas
farmville has been enhanced
farmville has been enhanced message
farmville christmas 2009