Farmville collections ! a new feature on farmville. Now you can get collectable items on farmville 🙂

You can now collect items by doing various tasks around your farm to earn special rewards!
Please find more information about the new Collections feature below:
FarmVille Collections :


At level 10 you will receive a pop-up stating that you are now able to find collectible items. The collections menu is located as an extension of the Ribbon/Achievements menu.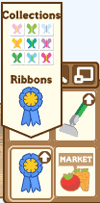 The collections menu features 6 different sets of collection items.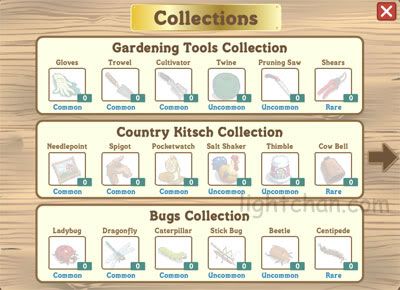 For now there are 4 collections you can collect in farmville :
1. Farmville Gardening Tools Collection
2. Farmville Country Kitsch Collection
3. Farmville Bugs Collection
4. Farmville Butterfly Collection
5. Farmville Feather Collection
Each collection has 6 items, 3 common, 2 uncommon and 1 rare.
How to get collections items ? Where can i find collectable items ?
You have a random chance to find these items via specific routine activities (plowing, harvesting from trees and animals, fertilizing, and some can be gifted).
When an item is found in game, a message appears above the Neighbor Bar alerting you to the item that was found, what set it belongs to, and how many more items you need to complete the set.
As items are collected during the game, they are gathered in the collections menu. When Uncommon or Rare items are found, you are given the opportunity to post a feed to your wall that will allow 5 of your friends to get the same item.
What reward do you get from farmville collections ?
When at least one of each of the items in a set is collect, you can Trade In that collection for a reward:
250 XP, 5,000 Coins and 5 Tanks of Fuel
You will able to hold a maximum of 10 of each collectible item, and can Trade In collections as many times as you have a full collection available (the number of each item in a set decreases by one each time the collection is traded in).
Following the reward, you're able post a feed alerting your neighbors of your achievement. Any friend that clicks on this feed within 24 hours will receive a random collectible from the same set that was completed.
Gifting Collectables can be done via the Free Gifts page, where a single collections item will appear in the first slot of free items. The gift that is available is changed after a period of two days.
Incoming search terms for the article:
farmville collections
farmville collections rewards
farmville collection rewards
collections farmville
farmville collection
farmville collections hints
farmville collections reward
farmville new collections
collections in farmville
farmville collection reward