FarmVille Colored Chickens. Have you collected all the colored chickens from mystery egg ?
– brown chicken
– black chicken
– golden chicken
Well now there's an easy way to get colored chickens 🙂 with farmville cash.
Yeah now you can purchased the brown, black, and golden chickens with fv cash in the market.
– brown chicken 7 fv cash
– black chicken 15 fv cash
– golden chicken 25 fv cash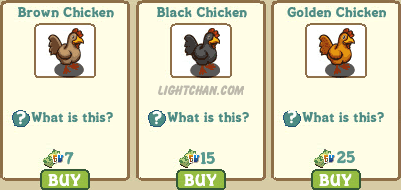 When these chickens are stored in a Chicken Coop, they will increase your chance to receive a Rare Mystery Egg!