FarmVille Comments is a new feature to communicate with other players 🙂



comments icon on farmville
you can see this icon on the right side, click the icon and you can see the comment box.
How does farmville comments feature works ?
the purple dialogue bubble will notify you of new comments or social actions that have been made on your farm.
your neighbor can leave you some comments from the comment box, also you can leave comments on your own wall.
Click the icon to view all comments that your neighbors left for you, click 'visit' tab to see who has visited your farm, fertilized your crops, fed your chickens and send gifts to you.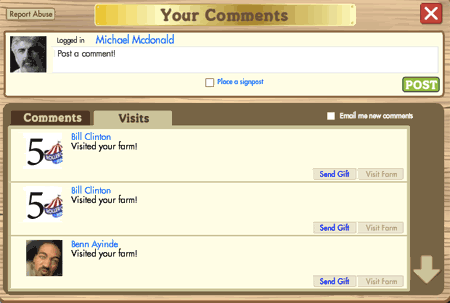 if you receive a comment on your farm, avatar bubbles will appear.


the maximum avatar bubbles to appear are 10. And the avatar bubbles resemble the user's avatar that left the comment, click the avatar bubble to view all comments.
also from comments menu you can place a sign post 🙂 Type what you want to post and check the "place a signpost" box. Click "post" button and you can place a sign post.
when you visit your neighbor's farm, you can click the comments icon and leave some comment, place a sign post or post a comment to their facebook profile.
so what do you think of farmville comments feature ?