FarmVille Fireworks, New Years is coming soon.. well actually it's only 2 days left 😛 so let's celebrate New Years in farmville with fireworks !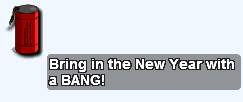 Bring in the New Year with a BANG !
there are 2 type fireworks available on farmville right now, the one on market that you can purchase with fv cash 😛 and the one that giftable to your friends for free 🙂
Fireworks Finale

you can buy this fireworks finale on the market with 3 fv cash, remember that this one is limited 😀
Here's how the fireworks finale works :
Fireworks can be launched at any time once they are placed on your farm. Simply place and select launch! Pay attention! These sparks fly only once.
Free Fireworks Gift

there are 3 giftable fireworks available :
– Sparkler Fireworks (blue)
– Twirling Fireworks (purple)
– Starburst Fireworks (red)
how big do you think the sparks lights from the fireworks on farmville ? and which one the biggest 😛
Note that the fireworks only lasts about a minute, so maybe it's not worthed to buy the fireworks finale 🙁
and you can launch it more times if you click on "launch!" 3-4 times, then before the firework ends you click store item.
Incoming search terms for the article: