FarmVille Golden Horseshoe 😛 do you get this pop up today ?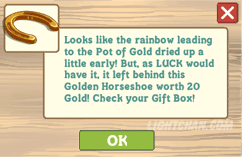 looks like the rainbow leading to the pot of gold dried up a little early !
But, as luck would have it, it left behind this golden horseshoe worth 20 gold !
Check your gift box
why we get golden horseshoe ? how to use golden horseshoe ?
we got a golden horse shoe compensation due to last night's mishap with the Pot of Gold expiration.

golden horseshoe on farmville gift box
use the golden horseshoe and it will add 20 gold pieces to your pot of gold 🙂
Note : If you do not have a Pot of Gold, attempting to use the Golden Horseshoe will prompt you to purchase a new Pot of Gold and take you to the Market. If you don't already have a Pot of Gold, you'll be unable to redeem the Golden Horseshoe as the Pot of Gold event has expired. You can get rid of the Horseshoe by selling it in your Gift Box.
so if you still have pot of gold use this golden horseshoe and redeem pot of gold prizes 🙂
Incoming search terms for the article:
farmville golden horseshoe
golden horseshoe farmville
gold horseshoe facebook