FarmVille Holiday Presents for Holiday Tree 🙂 Yeah special presents for your christmas tree on farmville.


Hey why the free gift box color is green ? Well that's because the green box mean it's a special presents to gift for your friends holiday tree.
Select a free gift to send your friends ! Send limited edition Holiday Presents for your friends to put under their Holiday Trees! Who knows what's inside of them ?
What item do i get inside holiday presents ?
Well, you must wait.. because these gifts can be opened from Dec. 24th to Jan. 7th and contain some special surprises. So.. wait until 1 day before christmas day 🙂
Here are the Holiday Presents as free gift that you can send for your friends holiday tree :
Blue Present
Pink Present
Green Present
Red Present
Brown Present

And also, you can send the holiday presents by clicking "Send Holiday Presents!" that you see on the newsfeed from holiday tree.


if you click it, then you will see this window :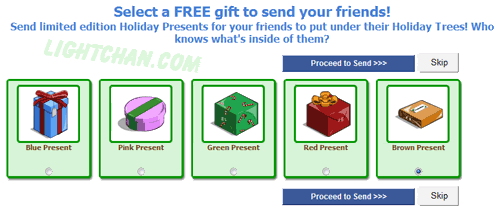 choose 1 holiday present, and send 🙂 and make sure you asked your friends to send 1 for you !
Happy sending~
Incoming search terms for the article:
farmville holiday presents
farmville holiday lights
how to send present in farmville
holiday lights farmville