FarmVille Holiday Tree ! A christmas tree to decorate for free on farmville 🙂

Neighbors can send you special gifts that will appear as presents under your Tree!
These gifts can be opened from Dec. 24th to Jan. 7th and contain some special surprises.
How to get christmas tree on farmville ?
you can get the holiday tree for free. Just login your farmville, and you should see this message

Click the holiday tree on your gift box and use 🙂


Updated : now you can purchase holiday tree for 10 coins on the market 🙂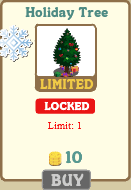 however there's only 1 limit for the christmas tree, so if you already have 1 you can't purchased it again 😛
put the holiday tree on your farm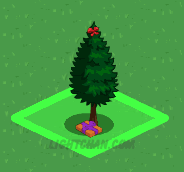 The holiday tree can hold 60 presents – now 100 presents


don't you think it's too small and no decorations for a christmas tree ?
I want it bigger like Tinsel tree from the white mystery box 🙁
But don't worry, because your Holiday Tree will gain additional decorations for every 20 presents and will even grow in size!


If you click the holiday tree you can ask friends for presents 😀


It will be post on your facebook news feed and your friends can send holiday presents for you.
want to know what presents that you can get for holiday tree ? please see Farmville Holiday Presents
After accepting the special gift(s) sent to you by your Neighbors, they can be found in your Gift Box. When you click "Use" from the Gift Box menu, the present will automatically be added to your Holiday Tree.
You cannot sell your tree, but it can be deleted via the delete tool.
You will be able to open the presents under your Holiday tree from December 24th to January 7th 😀
if you lost your christmas tree please see Farmville christmas tree lost 🙂
Update :
The Holiday Tree is a limited edition Winter holiday tree in FarmVille that was given out as a free gift to all players on December 3, 2009. The tree cannot be sold and does not function as a normal tree; it can store up to 100 presents (had been 60 prior to December 10, 2009). The ability to buy the present was added on December 9, but it is limited to one tree per farm

List of Special presents introduced: Coral Present, Orange Present, Polka Dot Present, Purple Present, Striped Present
The Coral Present is a limited edition Winter holiday gift in FarmVille, unique in that it cannot be placed on a farm or sold – upon removing it from the giftbox, it is immediately stored in the Holiday Tree. It is known as a "special present", which is collectible only when a neighbor's tree expands. The present cannot be removed from the tree, and can be opened between December 24, 2009 and January 6, 2010.
Incoming search terms for the article:
farmville holiday tree
how to get holiday tree in farmville
farmville holiday lights
farmville christmas items 2010
holiday tree farmville
how to get a holiday tree in farmville
how to get a holiday tree on farmville
how to get farmville holiday tree
how to get holiday tree farmville
farmville holiday tree 2009