Build your farmville hot spring to get fertilizer ! Visit your neighbor's hot spring to get even more fertilizer !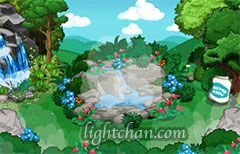 If you are unable to locate the Hot Spring, check for it in your Gift Box or purchase it in the "Buildings" section of the Market. You can have 1 Hot Spring on each Farm (Home, English Countryside, Lighthouse Cove, Winter Wonderland and Hawaiian Paradise).
upgrade your hot spring to get gifts ! material requirements :
32 bed rock
32 mineran infusion
32 steam
no parts links available, so here are som tips how to get hot spring parts :
– Ask for More – Send requests for Parts to any friend once every four hours
– Send Gifts – Send Parts to your Friends from the Free Gifts Page (available through the Hot Spring Menu)
– Buy Parts – Buy Parts directly from the Market or Hot Spring's Menu (see below)
– Complete Now – Quickly complete each stage with Farm Cash
– Don't forget to click on your friends' feeds.