FarmVille Invisible Cat 🙂 a cute animal from Alice in Wonderland on FarmVille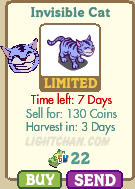 invisible cat on farmville
look what a big smile this blue cat have 😛
how to get invisible cat – blue cat on farmville ?
you can get this blue cat from farmville market that available for a limited time, purchase it with 22 farm cash and when you put it on the farm you will get 95 XP.
what do you harvest from invisible cat in farmville ?
well nothing special, just like other cats in farmville this cat can be brushed every 3 days and will give you 130 coins.
Incoming search terms for the article:
shortcuts to brushing cats on farmville