FarmVille Kelly Green Cow
another green cow on farmville !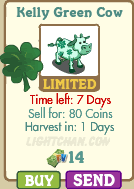 kelly green cow on farmville market
the new green cow, kelly green cow is a limited animal for st. patrick's day on farmville.
How to get kelly green cow on farmville ?
you can purchase it with 14 farm cash in the market and kelly green cow limited for 7 days only !
What do you harvest from kelly green cow in farmville ?
you can harvest shamrock milk for 80 coins in 1 day from kelly green cow
does kelly green cow produce kelly green calf in farmville ?
yes
the kelly green calf exist ! so when you put kelly green cow + bull in dairy farm, when dairy farm ready to harvest sometimes it will produce kelly green calf.
how to get kelly green calf on farmville ?
just like other calf, you need to look for kelly green calf on facebook walls when your friends post it and you can click adopt calf.

kelly green calf on farmville
Incoming search terms for the article:
farmville green cow
kelly green calf
how to get a green cow on farmville
green cow farmville
kelly green cow farmville