FarmVille Maison 🙂 a new special building on farmville, la maison.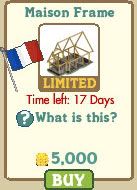 la maison on farmville
what so special for la maison ? well you can build la maison yourself, just like you build farmville horse stable. But beware, the maison have a limited time to build.
you can find maison frame on the market and purchase it for 5000 coins, lets start to bulid one.
put the maison frame on your farm and you will see a pop up that said :
" You've started building your maison – a french farmhouse to decorate your farm with! Let your friends know so they can send you construction materials! "
yes, you will need some materials to complete la maison. Click on maison frame and choose "look inside"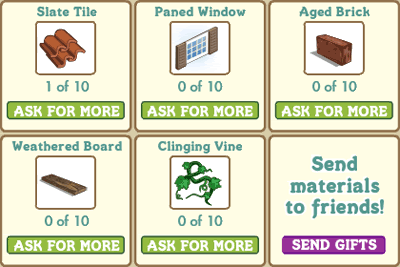 you will need 10 materials for each :
Slate Tile
Paned Window
Aged Brick
Weathered Board
Clinging Vine
how to get materials for la maison on farmville ?
You can ask your friends to send one for you, these materials can be find on free gifts tab and it's random. Or you can purchase these materials from the market for 1 farm cash per item.
On a second thought if you have enough farm cash, and don't want some troblesome to build la maison… you can purchase the maison for 50 farm cash 😛
so what do you get when you complete the la maison ? is there any special item from la maison on farmville ?
when you finished la maison you can share a provencal pot to your friends, and looks like la maison is only a decorative item. It doesn't have any additional functionality.
Incoming search terms for the article:
maison frame farmville
farmville maison frame
farmville maison