Farmville Megamind Decoration ! not only you get mega grow farmville, you can also get a decoration when help out megamind

megamind decoration on farmville
what is megamind decoration in farmville ?
it's an air hog decoration where you can see megamind riding on it !
to get farmville air hog you can visit the megamind farm and click the help out button on the pop up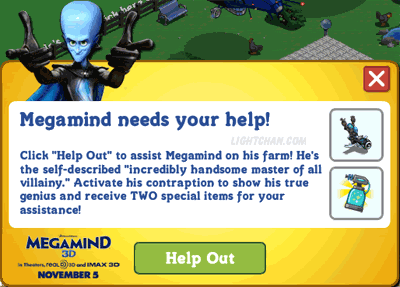 megamind will thanks you for visiting his farm and is giving you exclusive megamind decoration and 1 free consumable, MEGA grow
you can share a post on your wall to let your friend know about megamind event 🙂
xxx has claimed their reward gift for helping Megamind's Farm !
xxx just activated Megamind's MEGA Contraption to show the world who is the most incredibly handsome master of all villainy and received TWO special items for use on their Farm!
Incoming search terms for the article:
megamind decoration
farmville megamind decoration
megamind decoration farmville
mega grow farmville
megamind xxx
how to get megamind decoration in farmville
megamind decoration in farmville
megamind decoration for farmville