FarmVille Mystery Wings box crate is here, find it on farmville market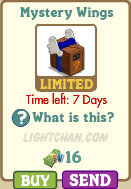 winged mystery box crate on farmville, mystery wings 🙂
This mystery box is loaded with new winged friends for your farm ! it's only available for a short time so click below to get yours now before they fly away !
hmm so we can get winged animal from this mystery wings box 😀
What animals do you get inside mystery wings crate ?
here's the mystery wings crate prizes :
macaw
mourning doves
male ostrich
white peacock
butterflies
butterflies on farmville ?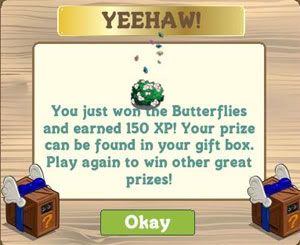 yes.. it's true
here's the images prizes for mystery wings on farmville :


note that there are only 2 'real animals' that you can harvest : male ostrich and white peacock
the rest – macaw, mourning doves, and butterflies only for decoration 🙂
Incoming search terms for the article:
farmville butterflies
butterflies in farmville
Butterflies on Farmville
butterflies farmville
how do you get butterflies in farmville
how to get farmville butterflies
how to get butterflies in farmville
how do you get butterflies on farmville
how do i get butterflies in farmville