FarmVille New Years Ball Reward Item. New Years in FarmVille ! The new years is upon us ! Place a New Year's Ball on your farm to get your bonus !


What reward do you get from new years ball on farmville ? Will we see any new item ? see it at the bottom 🙂
New Year's Day is coming! did you get your ball drop ? If not, one is for sale in the market. Play FarmVille between Jan 1st-3rd PDT to watch the show and receive a reward!

So for those of you without a New Years ball, they're available to buy in the market. It's only visible to those who haven't got one already!!
3, 2, 1 Happy New Year from farmville ! Have your own little celebration right here on your farm with the new year's ball ! get it from the Market or Holiday Tree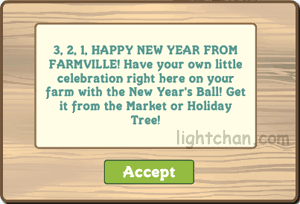 Okay the time is here ! The ball's about to drop! Let's go take a look!

The new year's ball will count down from 10 and you will see a Happy New Years sign on the top 😛
Tadah~ here's the reward that you get from new year ball :


To ring in the New Year you've been given a free level up!
Come back Jan 4th for 'Free Fuel Week' !
what a nice reward 🙂 but what about for them who have reached the highest level, level 70 ?
and can't wait for the free fuel week =) thanks a lot zynga, and happy new years guys ^__^