Farmville Reindeer. Christmas is coming and there's a new animal for christmas ! Reindeer.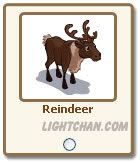 Giftable Reindeer on farmville 🙂
And there's another reindeer, rudolph the red nose reindeer =) see FarmVille Rudolph – Clumsy Reindeer for more information.
How to get reindeer in farmville ?
The only way to get the Reindeer is as a gift from one of your Farmville neighbors. yeah the reinder is giftable.
What do you harvest from reindeer ?
In 2 days you can Brush Reindeer and you will get 80 coins 🙂
Incoming search terms for the article:
farmville reindeer
how to get a reindeer on farmville
how to get reindeer in farmville
Reindeer Farmville
farmville raindeer