FarmVille Rudolph – Clumsy Reindeer. A red nose reindeer just came in on farmville 😀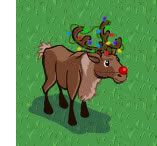 Adoptable Reindeer the Clumsy Reindeer, you can see christmas lights tangled on his antlers.
Just like farmville turkey that have 2 kinds of turkey, the reindeer on farmville also have 2 kinds 🙂 you can see the other one in farmville giftable reindeer
How to get Rudolph the red nose reindeer in farmville ?
just like other lost animals, you can get clumsy reindeer in facebook news feeds. Read the guide how to adopt lost animals in farmville.
What do you harvest from Rudolph the red nose reindeer ?
For clumsy reindeer in 2 days you can Brush Reindeer and you will get 80 coins 🙂
So here's the new animals in farmville 🙂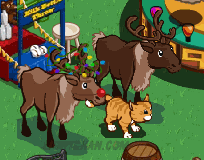 Rudolf the red nose reindeer, giftable reindeer and the orange cat – orange tabby kitten
Incoming search terms for the article:
farmville reindeer
Farmville Clumsy Reindeer
clumsy reindeer farmville
clumsy reindeer
farmville comexclusive