FarmVille Snow Blanket – Green Pastures. Go to the market – upgrade farm tab and you will see a snow blanket.

Snow blanket
what is the use of snow blanket on farmville ?
purchasing this will transform your green land into a winter wonderland, yeah your farm will be covered by white snow and winter 🙂
so if you wonder how to make your farm land covered with snow on farmville ?
To change the Landscape of your farm and place a blanket of snow on your farm, just purchase the snow blanket only 1000 cash
but if you don't like snow in your farm, or the white winter makes your farm looks pale you can make it to default green back by purchasing green pastures.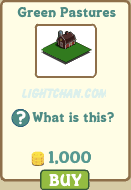 Green pastures, purchasing this will revert your winterland back to lush green farmland. you will have to pay 1000 Coins.
Incoming search terms for the article:
farmville sizable snowland
farmville green pastures
snow blanket with lights
sizable snowland farmville
farmville snow blanket
farmville winterland
green pastures farmville