FarmVille Super Pumpkins Mastery ! a new crops is available on farmville, super pumpkins 🙂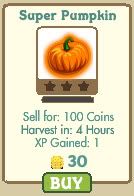 In order to celebrate reaching 10 Million Fans on the Fan Page, we are proud to announce the arrival of Super Pumpkins! Super Pumpkins are only available to users who are Fans of the Official FarmVille Fan Page.
Super Pumpkins will be available at 9 PM PST on Tuesday January 26th.
The Super Pumpkin event will end at 9 PM PST on Friday January 29th.
+ Due to the various technical issues the past few days, the Super Pumpkin Event has been extended until 9:00 PM PST Sunday, January 31st.
Super Pumpkins take 4 Hours to grow
Super Pumpkins yield 100 coins when harvested
Super Pumpkins can also be mastered for a limited time!
Here's the mastery for super pumpkins on farmville :
Level 1 : 1250
Level 2 : 1250
Level 3 : 2500
Please note: You need to harvest 5000 crops in TOTAL to achieve the level 3 Mastery.
Note: Super Pumpkins can wither if left unattended for too long, just like regular crops.
Incoming search terms for the article:
farmville super pumpkin
farmville super pumpkins
super pumpkins mastery
farmville super pumpkin mastery
super pumpkin mastery
farmville super pumpkins mastery