FarmVille Sweet Yams ! the sweet seeds for haiti is back on farmville 🙂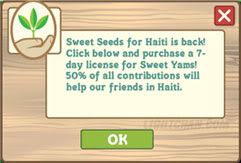 Sweet seeds for haiti is back ! click below and purchase a 7 day license for sweet yams !
50% of all contributions will help our friends in haiti.
Donating 25, 55 or 240 Farm Cash to Zynga's Relief Fund for Haiti will give you a 1 week permit to purchase as and plant special Sweet Yam seeds that never wither!
sweet yams on farmville market

Some quick tips regarding Sweet Yams :
10 coins to plant.
Yields 125 Coins when Harvested.
3 XP gained when planting. (Crop takes 6 Hours to grow).
After purchasing the Sweet Yams, all donors will receive a one week license to plant them. This means that users are able to plant white corn in unlimited amounts for 7 days only.
Sweet Yams never wither !
The best part of this event? Zynga will donate 50% of the proceeds earned from this event to help aid children and their families in Haiti during their time of need.
What could be sweeter than lending a helping hand?
Once you have purchased a new license,you'll receive a special sweet seeds purple color flag in your Gift Box! You'll also have the opportunity to post a feed that will allow up to 10 neighbors to get a flag of their own!
Incoming search terms for the article:
farmville sweet yams
sweet yams farmville
yampurple farmville
yam purple farmville
farmville yampurple
sweet yam farmville
farmville purple yam