Farmville Toolbar ! yes now there's a toolbar for farmville. With FarmVille Toolbar you can keep track of your crops and harvest while surfing web 🙂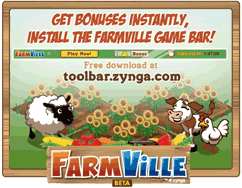 you'll also keep updated with new features and play farmville with a click 🙂
With this new Toolbar, Farming has never been easier!
To install the toolbar just use this farmville toolbar link :
http://toolbar.zynga.com/install/farmville/
And remember that the toolbar only supported a few browser so far, like IE 7+ and Firefox 2+
here's some comment from farmville forum about the farmville toolbar :
andirobinson
"I love the harvest countdown! That is awesome! Looks like they might be adding the other Zynga games on there at some point. I also play Cafe World and there is a button to go to Cafe World, but that is all that it does right now. Hopefully they will add a countdown for other games, too!
Love it!!!!"
Lunamione7
"I have it. So far it appears to be working fine and not slowing anything down but then again I've only had it for about five minutes so I suppose I can't really say for sure just yet.
I don't have any crops planted at the moment so it's telling me it's time to "Plant crops now" every time a friend gets a bonus it shows up on the tool bar. It just came up with a picture of a mystery egg because on of my friends had just found one, I REALLY like that it does that! I wish we had this tool bar when the donkeys were prizes because then maybe I would have gotten one.
So yup I think it's all pretty cool so far"
LadyME
"I started a thread on this toolbar this morning. Mine worked for a grand total of 5 minutes. Got bonuses and was great. Hasn't worked since, so I uninstalled it ,as many were suggesting I should do.
The bonuses seemed to be stuck on a barn raising that supposedly I already helped on (didn't). Constantly showed my crops were ready to harvest. One more thing screwing up my 10 minute times trying to just open my farm.It was awesome for 5 minutes, to bad it didn't continue to work."
laeny
"I use Google Chrome, and the toolbar doesn't support that browser. So I opened up IE, had to update it, installed the toolbar. Overall opinion: meh.
Every time you click on the toolbar it opens a new tab in your browser. That's annoying to me. I also have one plot of the white corn that I keep as decoration, so it says that I am ready to harvest, except my "real" plots aren't ready. So that harvest awareness button works fine, as long as you don't have a sweet seeds plot or two that you want to keep
There is a button for bonuses that worked fine for me, I got 50 coins for one neighbor's "thank you for fertilizing" and 100 coins for another neighbor's barn raising. After I got those the button changed to "Gift" (or something like that) so I assumed I was out of available bonuses, and when I checked on my feed that was correct. So that worked also for me. However one of my neighbor's wrote that hers was buggy. YMMV naturally.
Every time a new tab opened when you used the browser, the toolbar reverted to it's original state, which had "Become a fan" and "check out the new lake." Well I am already a fan, and I own the lake, but I clicked on each of those buttons to make them go away. They did in the current tab I was on, but if I used the toolbar again, it would open another tab and the toolbar would be back to its original state. Boo.
So I closed out IE and am happily back to Google Chrome for now. I'll watch the progress and updates this gets and maybe in the future it will be useful for me. Some of us farmers may absolutely love it, so I think that if you are interested it's worth it to give it a try"
so what do you think about farmville toolbar ?
Incoming search terms for the article:
toolbar zynga com
www toolbar zynga com
farmville toolbar
farmville toolbar for google chrome
toolbar zynga com/install/farmville/
farmville toolbar chrome
http://toolbar zynga com/install/farmville/
farmville toolbar for chrome
farmville toolbar google chrome
google chrome farmville toolbar