FarmVille Winter Holiday Items is here ! In this new update you can see many christmas items like buildings and decorations, including a new Poinsettia Crop.
These items are limited for 29 days, so you must remember the time left for these items 🙂
Also there's a christmas tree on farmville, Holiday Tree. And to decorate the Holiday Tree there're holiday presents as free gift 🙂
The holiday presents will appear under your Tree, these gifts can be opened from Dec. 24th to Jan. 7th and contain some special surprises.
Here are Winter Holiday Items that you can buy on farmville
FarmVille Winter Holiday Buildings :
– Gingerbread Home
– Santa's Workshop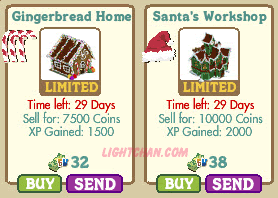 FarmVille Winter Holiday Decorations Cash :
– Snow Globe
– Holiday Sleigh
– Gumdrop Tree
– Candy Gate
– Santa Gnome
– Mrs. Claus Gnome
– Santa Scarecrow
– Gingerbread Arch

FarmVille Winter Holiday Decorations Coins :
– Candy Fence
– Green Nutcracker
– Red Ornament
– Blue Ornament
– Green Ornament
– Candy Arch
– Red Nutcracker
– White Nutcracker
– Holly Arch
– Gift Mountain

And also a new gift for farmville winter holiday :
Giant Candy


and some new farmville.com exclusive gift
Incoming search terms for the article:
farmville winter
farmville holiday items
farmville winter items
farmville winter collection
winter farmville
winter collection farmville
farmville christmas items
farmville Winter Holiday items
farmville mission winter
farmville christmas missions