Farmville.com Exclusive Gift. In the new update there're some Farmville.com Exclusive on the free gift on facebook.
What is Farmville.com Exclusive ?
well i think that's how way zynga introduced the migration to farmville.com 😛
As you know, now if you open farmville.com, you can play farmville from there.
How do we gift the Farmville.com Exclusives ?
First go to farmville.com in there you will have access to your farm and go to the gifts tab, you should be able to access the exclusive gift 🙂 now you can send some exclusive gifts to your neighbours.
note that the Farmville.com Exclusive Gift are available now for you to gift, but you have to have reached a given level to unlocked the exclusive gift.
Here are some more Farmville.com Exclusive Gift :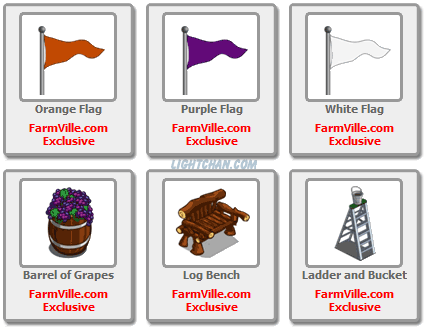 there are some carnival flag for Farmville Country Fair
– Orange Flag unlocked level 1
– Purple Flag unlocked level 1
– White Flag unlocked level 1
And also some new items :
– Wooden Log unlocked level 1
– Barrel of Grapes unlocked level 22
– Log Bench unlocked level 13
– Ladder and Bucket unlocked level 22
Incoming search terms for the article:
farmville com exclusive
farmville com
www farmville com
www farmville com exclusive
farmville com gift
farmville com exclusive gifts
farmville com exclusive free gifts
farmville com gifts
farmville exclusive
framville com exclusive