Fish Isle Facebook Game. A new fish game on facebook, Fish Isle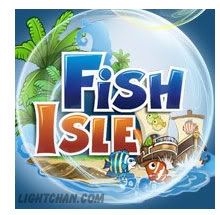 Tired of being land-locked? Move out to Fish Isle!
Escape from the hustle and bustle of land living and move out to sea in Fish Isle! Create your own fish farm, decorate your personal tropical getaway, visit friends on nearby islands, and much, much more. 😀
Well i think this game is something new not like any other fish game in facebook like fishville, happy aquarium, etc.. though it takes some 'elements' in farmville.
like the fish isle logo 😛



doesn't the logo reminds you with something ? yeah farmville logo 😀
the colors is almost the same, well i don't really know who the developer from fish isle. But i don't think it's zynga.
Fish Isle gameplay is almost the same with farmville, the difference is on the sea and land =P
let see some images from fish isle :

some decorations :


batman statue
so what makes Fish Isle better than farmville ?
Fish Isle have a feature called multi tool, so you can do 'planting', 'harvesting' quickly 🙂
want to know more about fish isle ? you can read the Fish Isle Guide Tips How To Play
And here's the link for fish isle application :
http://apps.facebook.com/fishisle/?from=bookmark&_fb_fromhash=0e5246a0441d880f0718eb6677fca72c
Incoming search terms for the article:
Fish Isle
fish isle game
fish isle cheats
fishisle
fish isle facebook
www fishisle com
fish isle on facebook
fish isle zynga
cheat fish isle di facebook
game fish isle