FishVille Hibernator ! a new item on fishville 🙂


What is hibernator for in fishville ?
FREEZE TIME WITH THE HIBERNATOR! Taking a break from being online and worried about your fish? No problem!
Just turn on a Hibernator to stop your fish from getting hungry or dying for up to 6 days per Hibernator purchased!
There are 2 hibernator available on fishville right now, you can see it in store – decorations tab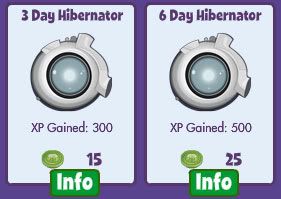 3 day hibernator with 300 xp that you can purchase with 15 sand dollars
6 day hibernator with 500 xp that you can purchase with 25 sand dollars
aww to bad it's cash items >.< If you click the info on hibernator you will see this :
So here's how hibernator works on fishville :
Your hibernator slows all the fish in one tank so they don't grow or die for 3 or 6 days. You can sell it back to refund unused time, or pause it to play while it's in the tank.
Incoming search terms for the article: