Play the new Lara Croft by square enix now and if you have tomb raider 2013 crashes, freezes and black screen problem then see how to fix them all here !


first take a look for the pc system requirements so you won't see any lagging or crash to desktop when start :
Minimum system requirements for PC
Windows XP Service Pack 3, Windows Vista,7,8 (32bit/64bit)
DirectX 9 graphics card with 512Mb Video RAM:*AMD Radeon HD 2600 XT, nVidia 8600
Dual core CPU: AMD Athlon64 X2*2.1 Ghz (4050+), Intel Core2 Duo 1.86 Ghz (E6300)
1GB Memory (2GB on Vista)*
Recommended system requirements for PC
Windows Vista, Windows 7 or Windows 8
DirectX 11 graphics card with 1GB Video RAM: AMD Radeon HD 5870, nVidia GTX 480
Quad core CPU: AMD Phenom II X2*565, Intel Core i5-750
4GB Memory*
list of problems that you can get and how to fix tomb raider 2013 :
Tomb Raider has stopped working error
I cannot start Tomb Raider 2013 on PC. Every time I try and play the game, it freezes and crashes and I get a message. The message tells me that Tomb Raider has stopped working. Has anyone met such Tomb Raider 2013 PC version issue? Give me some tips or hints to fix this PC version bug
make sure you already update the latest graphic driver, or you can try the fix below
tomb raider 2013 crash on options error
Just bought the game trough steam, have updated the graphics drivers and installed the 9c of direct x…
But when i start the game i get the "failed to initialize direct3d with current settings" error, so good so far… But then when i try to go into options it crashes with a "Tomb Raider has stopped working" message
solution on steam forum :
Aparently you need to create a registry entry by pasting following ( http://pastebin.com/M2XXcjts) in notepad and saving as Tomb.reg. Then double click file answer yes and it should be added to reg.
This solved the launching and options crash problems
tomb raider error pop up
– game crashes during the CG intro
– failed to initialize direct3d with current setting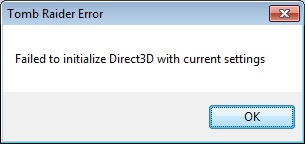 solution :
Try downloading DirectX.
Go to Microsoft site and download DirectX installer and update.
untick these options :
– exclusive fullscreen
– tessellation
tomb raider 2013 nvdxgiwrap.dll error
The game is crashing on startup in a component of the Nvidia driver (nvdxgiwrap.dll). Please make sure you have the latest Nvidia drivers.
list of error :
Faulting application name: TombRaider.exe, version: 1.0.716.5, time stamp: 0x5131eb70
Faulting module name: nvdxgiwrap.dll, version: 8.17.12.8577, time stamp: 0x4eb2dcb8
Exception code: 0xc0000005
Fault offset: 0x00002a5a
Faulting process id: 0x1f80
Faulting application start time: 0x01ce193a38e5eda7
Faulting application path: C:\Program Files (x86)\Steam\steamapps\common\Tomb Raider\TombRaider.exe
Faulting module path: C:\Program Files (x86)\NVIDIA Corporation\CoProcManager\nvdxgiwrap.dll
this issue resolved by updating gfx drivers
Problem for Graphics driver:
GTX 670
GTX 680 4 GB
I keep have a crash at roughly the same point in the game and I can't go any further:
ship check point and shipwreck Beach during mission "Reach the Galleon"
The game just freezes. It's usually in this spot but sometimes happens at some point on the zip rope.
solution :
I've only lowered the graphics for the video to see if it solved the problem. Up until now I've been running max settings without much issue.
I was getting that, turning off vertical sync seems to solve the problem for me.
Otherwise I'm running Ultra, and now that it's not crashing I'm using nVidia 3D Vision.
Incoming search terms for the article:
tomb raider 2013 black screen
tomb raider 2013 crashes on startup
tomb raider 2013 0xc0000005
tomb raider nvdxgiwrap dll
tomb raider 2013 than play do to be error on download error