Pack amos diner with customers in frontierville country diner missions ! Fill the seats and get better prizes when you serve yer friends !

goal : country diner part 1 of V
invite patrons ! your "serve patrons" bonus will get better and better the more patrons are visiting !
goal I : Breakfast Bar Mission
Place Country Diner
Serve 3 Patrons in the Country Diner
Tend 65 Adult Chickens
Reward: 250 XP, 1 Pawpaw Tree, Gingham Cloth (needed for Diner)
pioneer trail country diner material links :


long legs link – patio gate link – diner plate link – diner placemat link
goal II : Diner Refiner Mission
Harvest 30 Pawpaw Trees
Serve 8 Patrons in the Country Diner
Upgrade the Country Diner
Reward: 500 XP, 5 Basil Crops, Green Lightning
goal III : Brunch to Lunch Mission
Craft 5 Panini
Serve 20 Patrons in the Country Diner
Harvest 45 Basil Crops ( on Free Gift page)
Reward: 750 XP, Diner Chime (needed for Diner building), Quick Draw Quaff
4 focaccia bread + 8 mystery meat = panini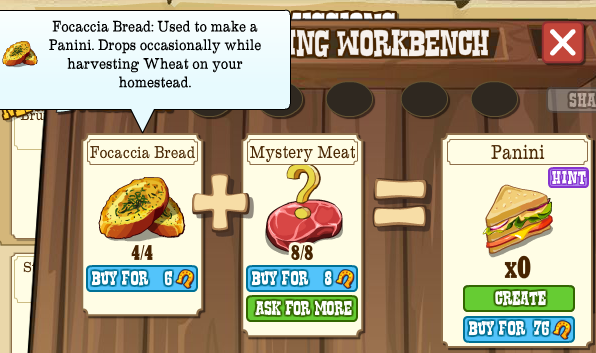 goal IV : Patio Party Mission
Craft 8 Pawpaw Splits
Serve 35 Patrons in the Country Diner
Finish the Country Diner
Reward: 1000 XP, 1 Dinner, 1 Fire Pit (decoration)
4 creamy pawpaw + 6 frozen yogurt = pawpaw split

goal V : Patio Party Mission
Serve 60 Patrons in your Diner
Collect all 3 Country Band Critters (Fiddlin Pig, Pluckin Chicken & Harmonicow) – Drop as you feed patrons
Harvest 60 Spinach Crops (on free gift page)
Reward: 10,000 XP, 1 Crazy Cake, Diner Renovation
Incoming search terms for the article:
frontierville country diner