Get ready for the frontierville prized pig contest : pig weigh-in! join your friends to grow some amazing pigs and get great prizes !

the pioneer trail prized pig contest is available for everyone now ! here's a guide how it works :
partner up with friends to grow some pigs as big as you can ! you'll have up to a week to feed each prize pig before you weigh it in for prizes.
– click the portrait to partner with a friend to grow huge prize pigs
– when your partner feeds the pig on their homestead, it counts for you, too!
– prize pigs develop one of several premium looks if you feed them enough
To upgrade each pig you'll need to feed it Hog Chow that you can craft with 2 ground corndog + 3 sugary shortening
2 tends
5 tends
10 tends
15 tends (fully grown Prized Pig)
To weigh your pig you can wait 7 days or fully feed it 32 times (fewer times if you get a neighbor to help):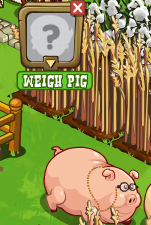 Access the Pig Manager from Pig Pavilion to see :
– the Prize Pigs you're currently feeding ("My Pigs")
– requests from your neighbors to feed their pigs ("Requests)
– Prized Pigs you've already weighed ("Legacy Pigs")
Tips :
– When a friend asks you for help, go to the Requests tab in the Pig Manager and then place the Prized Pig to complete the process!
– You can have up to 10 Prized Pigs growing or waiting to be weighed in on your homestead at the same time.
– Up to 5 of these can be ones you start yourself, the others can be from your friends!
– If your friend has accepted your request for a particular pig, click on their portrait over the Prized Pig on your Homestead to post a reminder. It will also give them some *FREE* Hog Chow!
Once a pig is ready to be weighed, click the weigh pig button to see what you've won !
Click the weigh button to find out the final weight of your prize pig. Pigs over 333 lbs earn a blue ribbon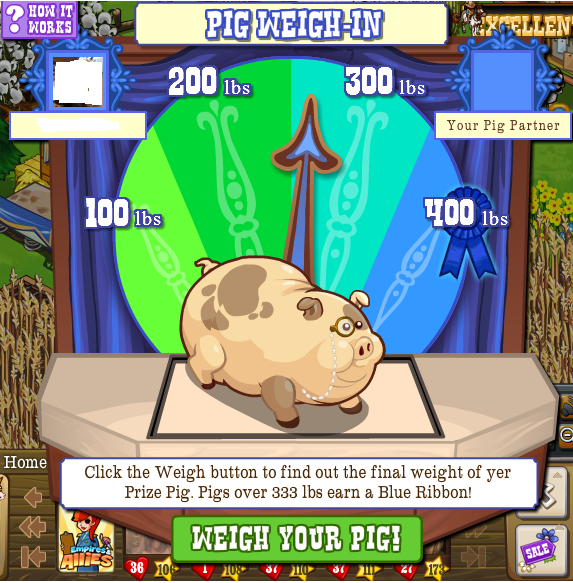 Click the weigh button to see how much your pig weighs, you'll always get a prize !
win amazing prizes like crazy cakes, spicy prize pigs, raging buffalo, and more !