Build float and finish frontierville two year anniversary missions ! It's been 2 years on the frontier and it's time to throw an amazing frontier parade to celebrate !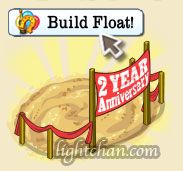 goal : two year anniversary I – IV
here are the pioneer trail floats quests :
goal I : Runnin Amok Mission
Buy 1 Huge Silver Font (fountain) in the 2 year anniversary market
Harvest 10 Sparklers (4 hour harvest)
Collect 10 Sweetsap Syrup (drops from pine tree)
Reward: Jack's Float, 2 Party Popper Trees, Country Cider (decoration)
help some of your favorite frontier friends get their floats ready for the parade :
bess float
hank and fannys float
sheriff maes float
floats material links :


harnessed flame link – strong hinges link – reinforced floorboard link – straw bundles link

twin seats link – wood panels link – jail cell bars link
goal II : Rodeo on Wheels Mission
Craft 1 Frontier Firefouintain
Collect 8 Leather Feed Bags (drops from non rideable horses)
Complete Bess' Float
Reward: Bess' Float, 2 Party Popper Trees, Sunbeam Filly
goal III : Twins on Parade Mission
Place 2 Confetti Trees (ask your friends for them)
Collect 20 Corn Husks (harvest corn)
Complete Hank & Fanny's Float
Reward: Hank & Fanny's Float, Anniversary Crate, Orchard expansion 4 (gives you 250 more slots free)
goal IV : Jail Cell-ebration
Craft 3 Frontier Firefountains
Collect 12 Delicate Flowers (drops from wildflowers)
Complete Sheriff Mae's Float
Reward: Sheriff Mae's Float, 3 Crazier Cakes, Book of XP
Incoming search terms for the article:
bess float in pioneer trail
pioneer trail harnessed flame link
two year anniversary frontierville
frontierville straw bundles
frontierville jail cell bar link
frontierville anniversary mission
frontierville two year anniversary mission
harnessed flame pioneer trail link
where do i find harnessed flamed link in pioneer trail?