Fuel For Coins FarmVille ! special fuel for coins promo in the market !

farmville fuel for coins pop up notification
you can now buy fuel for coins in the market ! unlock this limited time offer by earning any co-op farming medal this week (level 20 and above)
how does fuel for coins works on farmville ?
for a limited time starting tonight you'll be able to purchase fuel for your vehicles with Coins!
Earning any medal (Bronze, Silver or Gold) for any Co-Op Farming challenge during our Fuel for Coins promotion will unlock two special fuel packages available in the Market. You will receive a pop up once you complete the challenge successfully.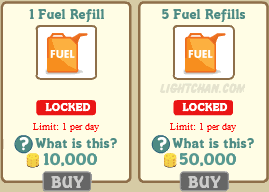 locked fuel on farmville market
how to unlock fuel in the market farmville on fuel for coins event ?
In order to unlock the packages, you will need to start and complete a Co-Op Farming Challenge while this promotion is running. If you have completed all available Co-Op Farming challenges, selecting and completing any previously completed challenge will unlock two coin option fuel packages. The only requirement is to complete the challenge within the medal requirements.
Once the packages are unlocked, you'll find them in the Vehicles tab in the Market


farmville unlocked fuel
You will be able to purchase one of each of these two packages per day. These fuel packages will be available to you for two weeks. Whenever you purchase these packages, you'll have the option to post a feed to share some fuel with your friends. Up to five friends will be able to click on these feeds to earn a 5th of a can of fuel.
farmville fuel for coins tips guide :
Basically you need to make 66,6 coins profit a crop for it to break even.
(10.000 / 150 or 50.000 / 750)
That's plenty easy!
Yellow Mellons have a net profit of 308 coins and grow 4 days.
In those days you could buy 20 fuel refills, and still make a profit.
27 current crops give a bigger profit than 66 coins a crop. I haven't bothered to check this as a daily profit, it's likely less, but you can clearly manage 27 crops like this.
credits to Shotoetoe from farmville forum 🙂
unlock the fuel on farmville market and purchase it while you can !
Incoming search terms for the article:
farmville easy fuel
farmville fuel for coins