Goji Berry FarmVille ! look a new seed is available on farmville 🙂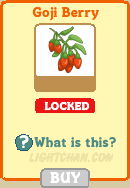 farmville goji berry seed
and it's locked 🙁
how to unlocked goji berry on farmville ?
purchase specially marked products for farmville at participating 7-eleven stores to unlock goji berry crop and earn exclusive limited edition items !
i already explained this 7-11 farmville promotion before, you can see more information in 7-Eleven Zynga Game Cards
Zynga FarmVille 7-Eleven promotion will start at 1st june and if you purchase some 7-Eleven products with zynga promotions on it, then it will give you in game items prizes. In this case farmville goji berry 🙂
well yeah this is too bad for the country that doesn't have 7-eleven farmville promotions 🙁 you can't get this special seed.
purchase the product and get the goji berry code – enter it on http://www.buyearnplay.com/ then you will get the goji berry unlocked on farmville
Goji Berry Crops stats
Cost : 15
Sell for 126 coins
Harvest in : 16 houts
XP : 2
does goji berry have mastery in farmville ?
hmm.. i don't know about this one, there's a mastery sign available.. but who knows zynga will make goji berry mastery this time 🙂

farmville goji berry mastery level :
level 1 : 80 crops
level 2 : 160 crops
level 3 : 240 crops
total harvest for goji berry mastery sign : 480 goji berry crops
Incoming search terms for the article:
goji berry farmville
farmville goji berry
goji berries farmville
goji berry mastery
farmville goji berries
farmville goji berry mastery
goji berry in farmville
farmville goji berry code
goji berry on farmville
goji berries on farmville