Grand Master Chef Cafe World is here ! Master Faster ! Grand Chef Master helps you master dishes three times faster !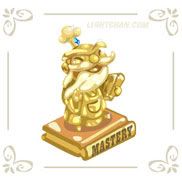 cafe world grand master chef
how does grand master chef works in cafe world ?
For one week, you will master dishes three times faster ! Afterwards, you can recharge the charm for 8 cafe cash.
You will know he is charged because of his golden sheen! When he needs recharging, he will turn silver. You can recharge him for 8 Café Cash to keep using his powers or keep him as a decorative piece!
Note that :
– The timer does not stop if you store him while he is charged.
– The Grand Master chef does not rotate.
– When you buy or build the chef, he will start at "6 days", which is 6 days and 23 hours, 59 minutes.
you can find him in your 'functional menu', under 'special items' tab


you can build it manually by collecting grand master chef ingredients, or buy it for 25 cafe cash
Ask your friends to help you earn the grand master chef ! Place this item in your cafe and once you finish it you will be able to master faster for one week !

if you want to build it just drag it on your cafe and you will see a progress

now you will need to ask your friends for ingredients to earn the grand master chef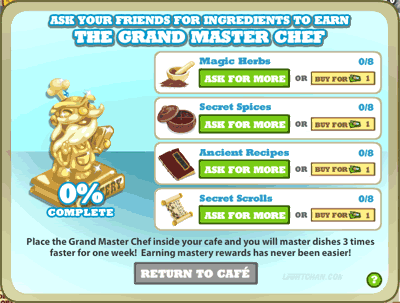 8 magic herbs
8 secret spices
8 ancient recipes
8 secret scrolls
finish it and he will give you 3 TIMES the Mastery for every dish served while he is charged and in your café!
you can use cafe world grand master chef links to send ingredients faster 🙂
Incoming search terms for the article:
grand master chef cafe world
cafe world grand master chef
how to use grand master chef in cafe world
grand master chef
cafe world grand master chef how does it work
cafe world grand master chef how to use
cafe world master chef
grand master chef not working
how does the Grand Master Chef work in Cafe World
how does the grand master chef work