How To Throw Snowballs In Farmville ? in order to get a lot of pile of snow to build snowman in farmville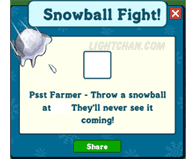 how to throw snowballs on farmville :
to start a snowball fight you can visit your neighbors and get snowball fight pop up "pssst farmer – throw a snowball at xxx They'll never see it coming !
click share button and you will see snowball animation on your screen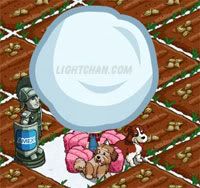 farmville throw snowball
and share the post to let your friends know and threw back at you so you can collect pile of snow
xxx just threw a snowball at you !


xxx threw a snowball at you ! retaliate now or they'll win the snowball war !
There will be an option : 'Retaliate'. You click on it.
New screen: "IT'S A SNOWBALL FIGHT!", a mugshot of your offending neighbour (can be several offenders), and you click under the picture(s) on the link saying 'throw a snowball' (for each offender)
After that, you will see the message 'Snowball thrown' and under that a larger message saying that you earned a pile of snow, and that you can find it in your giftbox.
but there're some issues with farmville snowballs (thx to Capi123) :
1. If they throw the ball, but don't publish it, you get nothing in your gift box,. You get the graphics of a snowball being thrown at you after logging on to your farm, but nothing.
2. If they throw a ball and publish to you, another common neighbour, who can see the post comes along and retaliates, so again, you get nothing. Which has happened to me more times than not. It says "snowball thrown".
3. I sent out 60 snow balls last night. I find it hard to believe that only two people would retaliate out of that many. This morning when I logged on the message said four people threw a snowball at me, and I had two in my gift box.
we still wait a solution for this snowball glitch to be fix 🙁 or do you have any solution ?
Incoming search terms for the article:
how to throw a snowball in farmville
snowball farmville
how to throw snowballs in farmville
how to throw a snowball on farmville