After you chopping some trees and found baby bunyan, you need to feed him with super baby gro 15x

you can choose to buy with horseshoes or click him to get an option to post the request on the wall, so your friends can help :
Need more Super Gro!
This big boy needs more o' Doc's Super Baby Gro! Head to ther market or ask your friends for more!
Big, but not big enough!
xx needs some more of Doc's Super Baby Gro to help baby Bunyan reach his full potential. Wanna send one? You'll get one in return!
Send Baby Gro
after you've done feeding him, you'll see this pop up :
big, growing bigger!
boy howdy! That's one massive toddler! keep nurturing him and he could chop down an entire forest!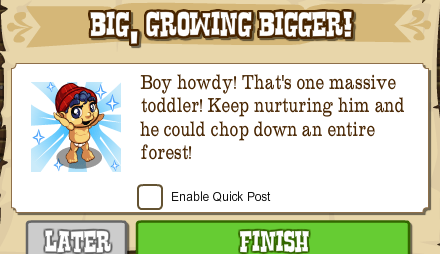 you can see the cut down trees option, but in order to use it you must finish all frontierville baby bunyan missions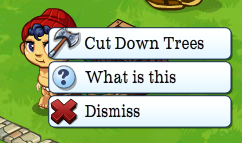 Incoming search terms for the article:
toddler bunyan
Doc\s Super Baby Gro
toddler bunyan frontierville