Pizza Oven In Cafe World ! Fire it up 🙂 get a pizza oven to gain access to special pizza oven recipes.


cafe world pizza oven
click on the pizza oven when it is in your cafe to view the recipes you've unlocked, get yours today !
you can click on the 'fire' icon because it's not on the stove tab 😛
choose to build it or buy with 40 cafe cash

to build pizza oven you must get these parts from your friends :
cafe world pizza peel
cafe world cooking rack
cafe world pizza platter
cafe world pizza hickory logs
ask your friends to help you assemble your pizza oven ! chef piero is coming to your cafe, bake a slice worthy of a pizza master !
after you finish, make sure look on the cookbook to bake a pizza and finish the pizza oven goals to unlock these pizza :
– pizza margherita
– sausage deep dish pizza
– pepperoni pizza
– meat craver's pizza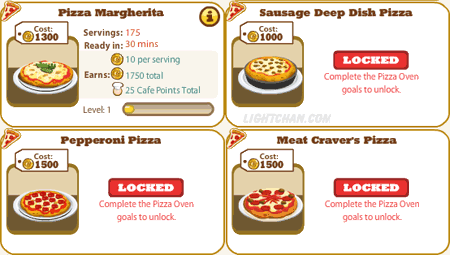 Incoming search terms for the article:
cafe world pizza oven
how to get a pizza oven in cafe world
cafe world pizza goals
pizza oven café world
cafe world pizza oven goals
pizza goals cafe world
pizza oven goals
cafe world pizza
cafe world pizza oven parts
pizza oven in cafe world